With the summer coming to an end, book bags will be replacing beach bags and the jam-packed days of school, extracurriculars, and sports will be filling up the calendar.  Before you know it, the holidays will be here, adding even more things to your growing to-do list! It's more important than ever to stay organized and cut back on clutter! We've found a few clever storage solutions that will help you do just that! Check them out!
Brilliant Storage Solutions to Stay Organized
Affiliate links included below. Thanks for your support!
1- Honey-Can-Do 8-Piece Room and Laundry Organizer
Say goodbye to turning your bedroom upside down while rushing to get out the door. This eight-piece room and laundry organizer set stores, manages, and maintains your wardrobe with features like a 12-pair shoe rack, mesh laundry bag, and four storage drawers. Perfect for kids and adults alike.
Add space for stowing while also enriching your aesthetic with this rustic wall shelf. Crafted of iron and solid wood, its three tiers are perfect for holding mail, school forms, and even books to return to the library. Keep it in your hallway or by your front door for maximum organization.
3- High Road BackPockets Car Seatback Organizer 
The car is oftentimes one of the hardest places to keep clutter-free. This seatback organizer holds everything from umbrellas to tissues, and it doesn't take up any floor space. Its durable stitching and heavy-duty pack cloth construction insure years of clutter control.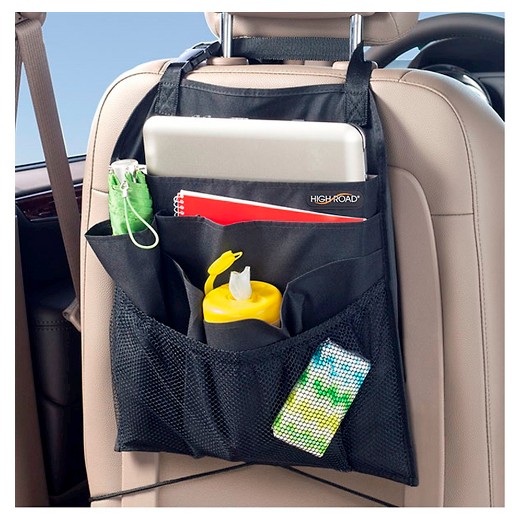 If you're a golfer, the benefit of this storage solution is pretty obvious. Not a golfer? It's still an awesome organizer for your winter gear! Use the bag holder part to hold everything from shovels to skis. The smaller shelves are perfect for things like gloves and hats! Use the hooks for hanging "go bags" for extracurriculars!
Again, while this storage solution is perfect for its actual purpose, if you don't go crazy with gift wrapping during the holidays, think outside the box! I see the perfect cleaning products station, craft supply corral for kids, and so many more ways to use it!
The key to genius storage solutions is looking at what you have, what you love, or what's on sale and thinking about how you can use them in ways other than their traditional purpose. The back seat organizer, for example, would also make a great changing table organizer for a nursery or makeup organizer for a bathroom.
Do you have any favorite storage solutions that help you stay organized both at home and on the go? Share below!