Caramelized Carrot Soup: Delicious Healthy Recipe
What would you cook with  a 2 pounds bag of baby carrots?  A carrot soup! So obvious, right? Check out my delicious carrot soup recipe and take advantage of the next sale on baby carrots!
My husband went to the grocery store and he bought that huge bag of baby carrots! Huh! I turned red (or orange) when I saw that!  Once the bag was opened, we need to eat the carrots within five days! Although my kids love carrots (a bunny would be probably jealous) they cannot consume that in 5 days! I went with a healthy soup to use that huge quantity of this vegetable! I usually cook this regular carrot soup  but I found this new recipe that puts a spin and adds extra taste to the soup. The recipe, created by Joanna Tymnkiw, was in my local newspaper
Caramelized Carrot Soup: How to Make this Healthy Recipe
Ingredients
2 tablespoons of olive oil
2 tablespoons of butter
1 cup of sliced red onion.
1 teaspoon of sugar
2 cloves chopped garlic.
4 teaspoon of chopped ginger!
4 cups of carrots! I used the baby carrots! I didn't even bother to slice them
salt and pepper
1 cup of coconut milk
3 cups of vegetable stock
Optional: 2 teaspoons of curry powder.
Directions:
Melt oil and butter in a large pot over medium heat
Add onion and sugar! Stir occasionally for 5 minutes!
Add the rest of the ingredients and stir together for 5 minutes or until they are softened
Let it caramelize and watch closely because you don't want it to burn!
Add coconut milk and broth
Cover and bring to simmer for 30 minutes or until carrots are tender!
Blend it and add salt and pepper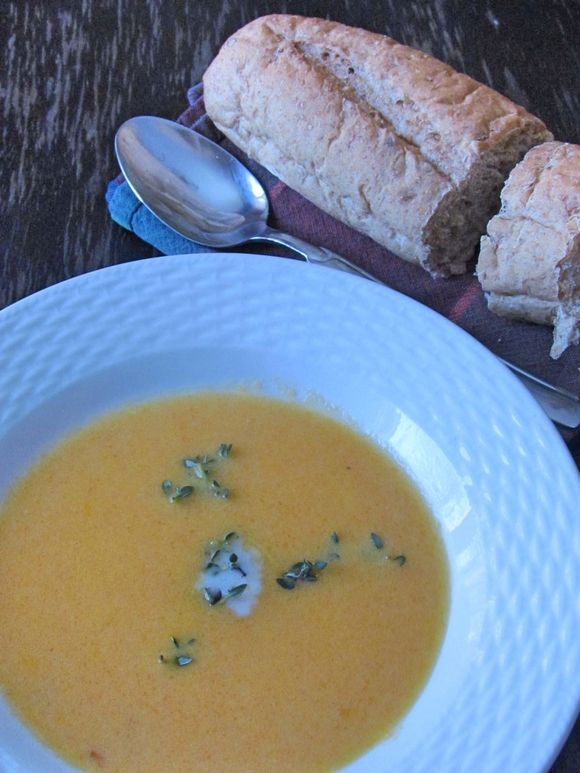 I served this carrot soup healthy recipe with some homemade garlic bread!
Verdict: Delicious! The coconut milk added such a nice flavor to the soup! It was a huge success among the family! Since I had a huge quantity for carrots, I made a double batch and froze it in small quantities. It is convenient for those cold nights or for an after skiing day!
What do you think of this healthy recipe? Have you tried adding coconut milk to your carrot soup? How was it?
Caramelized Carrot Soup: Delicious Healthy Recipe is a post from: Our Family World
Want to showcase your product to our audience? Then check our advertising options
Advertisement