A new baby is so exciting for the whole family and that includes your favorite pup.
Make a pregnancy announcement with your dog and all of your friends and family will be over the moon.
Your pup is a major part of the family, and an announcement with a furry friend is so adorable.
I have so many friends who consider their dog their first baby, that it only seems fitting that they are included when baby makes four.
Check out these delightful announcements, you are going to want to save these ones, they are too cute!
►► I wish someone told me about these pregnancy struggles.
7 Darling Ways To Make A Pregnancy Announcement With Your Dog
This post contains affiliate links.
 We earn a commission if you make a purchase.
Pretty Silhouette
If you need a stunning and simple way to announce your pregnancy, consider recreating this beautiful silhouette photo. This image would be just as beautiful on a (affiliate) card as it would be on your mantle. What a gorgeous way to include your favorite pup!
Big Sister (Or Brother!)
Michelle Vantine Photography Blog / Via michellevantine.blogspot.com
This big sister or big brother announcement could easily be adapted for any dog and is oh so sweet. I think the pint-sized dog in this photo makes this picture even cuter!
Shoes And Collars
Source Unknown / Via Pinterest
Not everyone has dogs who sit and stay long enough for a cute picture, but you still may want to make a pregnancy announcement with your dog. This shoe and collar announcement is the perfect way to include your favorite furry friends without any begging or treat bribing.
Reading Up
Reddit / Via rferrar1
Just like you are probably reading up on being a parent, your pup needs to prepare. Capture an adorable photo of your dog studying up for the big baby event!
Share Our Toys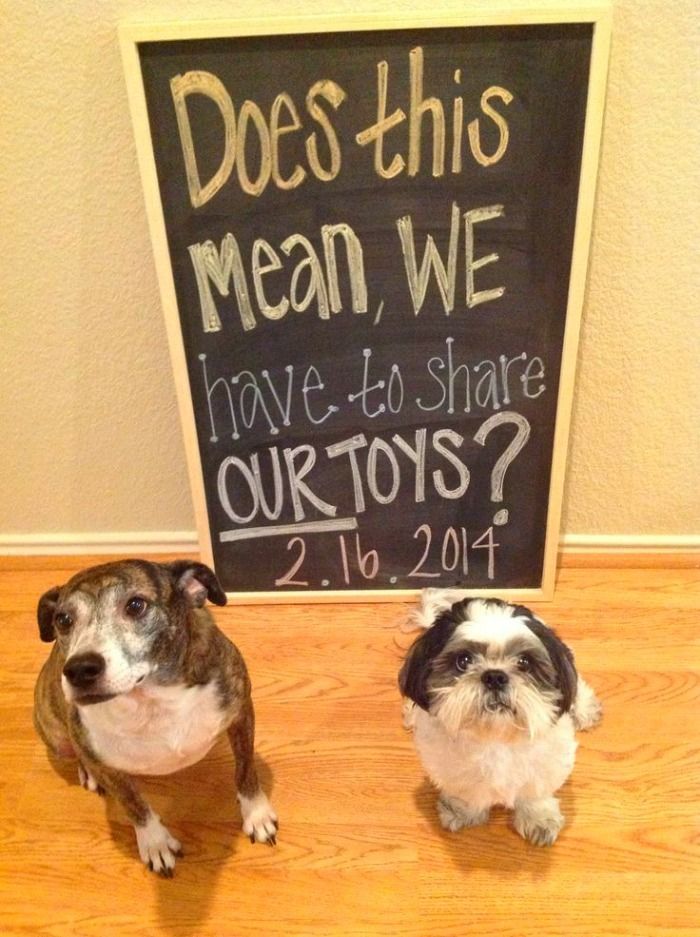 Source Unknown / Via  Pinterest
This subtle announcement will have your friends and family second guessing. Wait, who are the pups sharing there toys with… oh! Adorable!
Guard Dog Duty
Source Unknown / Via Pinterest
Perhaps your dog is taking his new role as protector of the baby seriously. This very cute guard dog announcement will surprise your family and friends, and let them know your dog is taking his protector role seriously.
OMG! Baby!
heritageknitting.blogspot.com / Via Pinterest
This announcement has the right amount of laughs that will get your family talking. You might need a little bit of photo editing skills to pull off this announcement unless your dog has some seriously amazing trick skills. This photo just might be winning the internet.
There are so many adorable ways to make a pregnancy announcement with your dog! I know several friends that these announcements would be perfect for to include their "fur babies."
Which announcement is your favorite? Did you or a friend make a pregnancy announcement with your dog? Tell me in the comments!