Back to school in our family means back to preparing lunch boxes, having dinner ready by 5:30 and eaten by 6 because we need to rush to practices! It's also about healthy snacks for kids that I toss in their lunch bags, that I give before hockey practices or swimming lessons! I try to keep snacking healthy in my family.
Here are some tips that help me providing healthy snacks for kids and for me too!
 Once a week, I slice some vegetables such as cucumbers and parsley and store them in small containers. They are ready to be tossed in any lunch bag!
When I go grocery shopping, kids help me choose their favorite fruits and vegetables. They will be more likely to eat them if they have a choice in them.
I always have some nuts on hands: almonds, cranberries, raisins, walnuts. Although most of the schools don't allow nuts, I hand these healthy snacks before practices! They give a great boost of energy.
Kids help me in the kitchen. I think this is the best way to get them eat healthy snacks or any other food!
I also check Life Made Delicious Website for healthy snacks for kids! I stumbled on the Banana Nut Cheerios Energy Bar Recipe. I thought it will be a great healthy snack for my hockey player and my ballet dancer!
Banana Nut Cheerios* Energy Bars Recipe: One of my favorite healthy snacks for kids
Ingredients:
4 cups (1 L) Banana Nut Cheerios* cereal
1 cup (250 mL) sweetened dried cranberries. I know that my kids are not huge fans of the cranberries. I tried them once in banana muffins  and they didn't like it! I thought I would give it a try another time.
1/3 cup (75 mL)  almonds, toasted* I didn't use almonds because my son doesn't eat them.
1/3 cup (75 mL) roasted unsalted sunflower nuts
1/2 cup (125 mL) light corn syrup
1/4 cup (50 mL) packed brown sugar
1/4 cup (50 mL) creamy peanut butter
1 tsp (5 mL) vanilla
Make it
Spray 9-inch square pan with non stick cooking spray.
Mix cereal, cranberries and sunflower nuts. I used a large bowl as it will make it easier to mix all the ingredients. You will need to add the almonds in this step.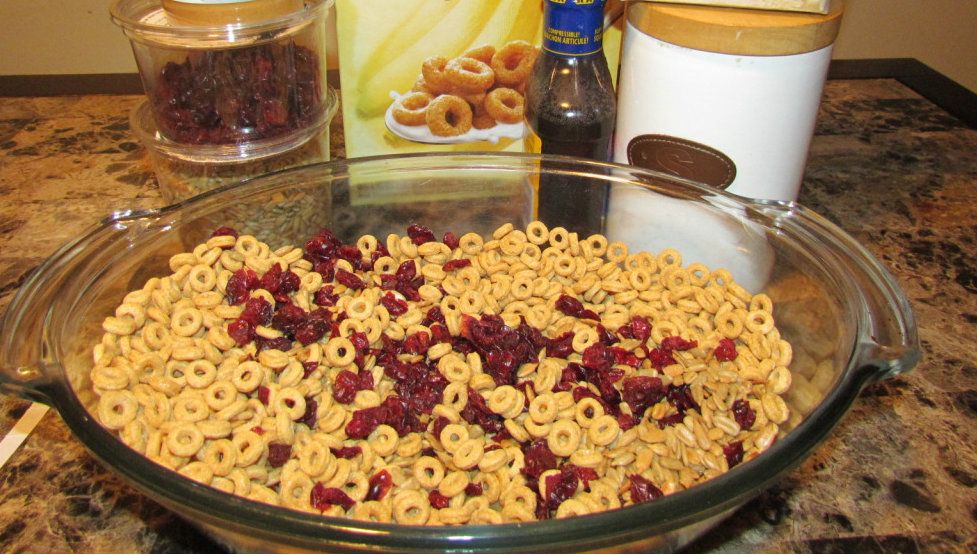 I used a 2 quart saucepan to heat corn syrup, brown sugar and peanut butter over medium-high heat, stirring constantly.  Bring it to Boil and stir 1 minute.  When I removed from heat, I stirred in the vanilla. When I was stirring this mixture, I thought it will not be enough for all the dry ingredients!
So I switched the dry ingredients in a smaller bowl and starting pouring syrup mixture slowly. I was wrong, I should have kept  my original bowl!
Press firmly in pan. Cool completely, about 30 minutes. For bars, cut into 6 rows by 4 rows

How do you keep snacking healthy for your family? What are your kids favorite healthy snacks? Share them with us! 
Disclosure: I am part of the Life Made Delicious Blogger program and I receive special perks as part of my affiliation with this group. The opinions on this blog are my own