Low Calorie Dessert Recipe: Yogurt Blueberry Pie Recipe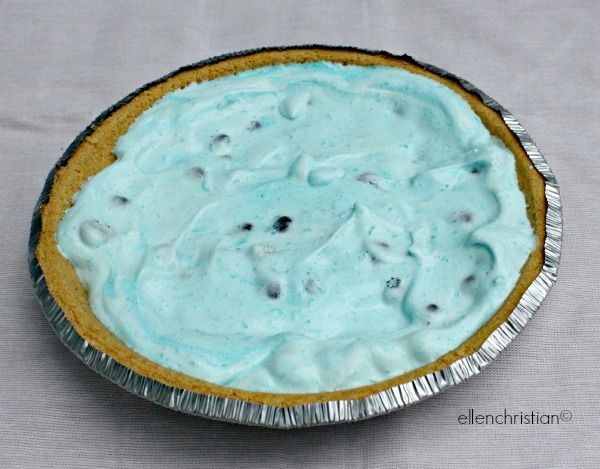 In honor of blueberry month, whip up a  yogurt blueberry pie for a delicious low calorie dessert! Post contains affiliate links.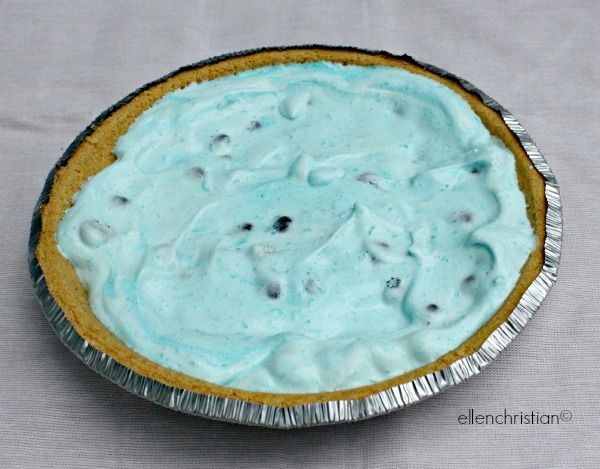 One of the best things about the summer time is that fresh fruit is so affordable.  Fresh fruits and berries are some of my favorite snacks because they are not only delicious but also healthy. My favorite way to eat fruit is in a fruit salad.  When we entertain, I like to bring a dessert that's a bit more special. During the hot weather, I really try not to turn on the oven to bake any more than I have to. Heating up the kitchen just makes the rest of the house hot and uncomfortable.
When I want a summer dessert, I look for something that is no bake.  A no bake dessert means that I don't need to heat up the oven. This Yogurt Blueberry Pie recipe has all the delicious taste of fresh blueberries and is also a low calorie dessert. It is very simple and quick to put this dessert together for company. Blueberries are high in vitamins and anti-oxidants so they are a great choice to add to this low calorie dessert. I have also made this dessert with a blackberries and raspberries.  You can just change up the type of Jell-O that you use depending on what type of berries you add to it.
I began using a pre-made Graham cracker cookie crust to avoid having to bake my own crust in the oven.  If you don't mind turning on your oven, you can certainly make your own Graham cracker cookie crust from scratch instead.
Advertisement
How to make this delicious low calorie dessert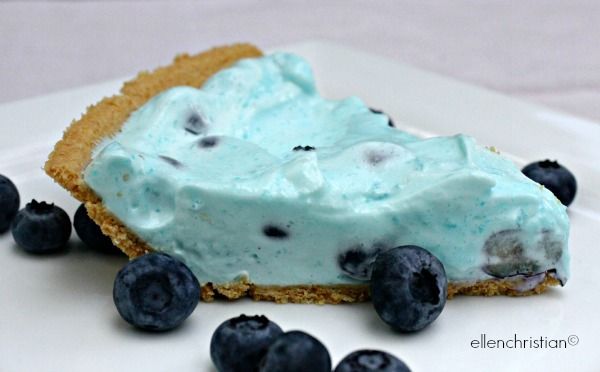 Prep time: 10 minutes
Refrigeration time: 4 hours
Ingredients for Yogurt Blueberry Pie Recipe
Graham cracker cookie crust or an Oreo cookie crust
1 box of blue Jell-O (you will only use half of it) NOT sugar-free
1/4 cup of hot water (boiled not from the tap)
1 6 oz container of low fat or non fat Greek yogurt – vanilla flavor
4 oz of Cool Whip or other similar brand of whipped topping. I usually buy Truwhip because it is 100% natural and gluten free. It also has no hydrogenated oils.
1 cup of fresh blueberries (or other berries)
Directions for this low calorie dessert
Dissolve 1/2 the box of Jello-O in the hot water. Stir until completely dissolved.
Mix well with the Greek yogurt.
Add the blueberries and the whipped topping.
Stir very gently so you don't crush the berries.
Spread in the cool Graham cracker cookie crust.
Refrigerate the pie for at least 4 hours or until you can cut it easily.
Looking for other delicious low calorie desserts? Check out our Orange Chocolate cake recipe and this Raspberry mousse! Along with this blueberry pie recipe, you'll be the hit of your family picnics!
Don't forget to try our Blueberry Cheesecake Recipe too.

 
Low Calorie Dessert Recipe: Yogurt Blueberry Pie Recipe is a post from: Our Family World
Want to showcase your product to our audience? Then check our advertising options
Advertisement